AMC Staff with race course in back left of shot. Photo by A. Sicignano

The original Inferno Race was solely a ski race from the summit of Mount Washington over the Tuckerman Headwall and all the way down to Pinkham Notch Visitor Center (then Pinkham Notch Camps). It began in 1932 and attracted all sorts of crazy extreme skiers! In 1939 Toni Matt set his amazing record for the race which has yet to be topped and people still talk about the skiing exploits of Brooks Dodge!


Toni Matt

Today's skiers are no less nuts! The modern version of the Inferno started in 2000 and is a Pentathlon including running, kayaking, biking, hiking and then the skiing down some part of Tuckerman Ravine that is skiable at the time of the race. This year the racers were able to tackle Left Gully, a slope that had packed frozen snow at the top and copious amounts of ice at the bottom! The reports of observers was that they would watch racers make several nice turns and then just listen to " Clack clack clack clack clack" as they came through the run at the bottom!

The Inferno Race had a great turn out this past weekend. About 230 people entered the race including a few past and present AMC staff. The weather was in our favor: it was a bit chilly but the sun made an appearance! Although the skiing conditions were slick, icy, and crusty in Tuckerman Ravine everyone came away unscathed, which made for an even better day. If you are thinking you might want to be hard core next year, for more information on the Inferno Race check out the Friends of Tuckerman Ravine website at www.friendsoftuckermanravine.org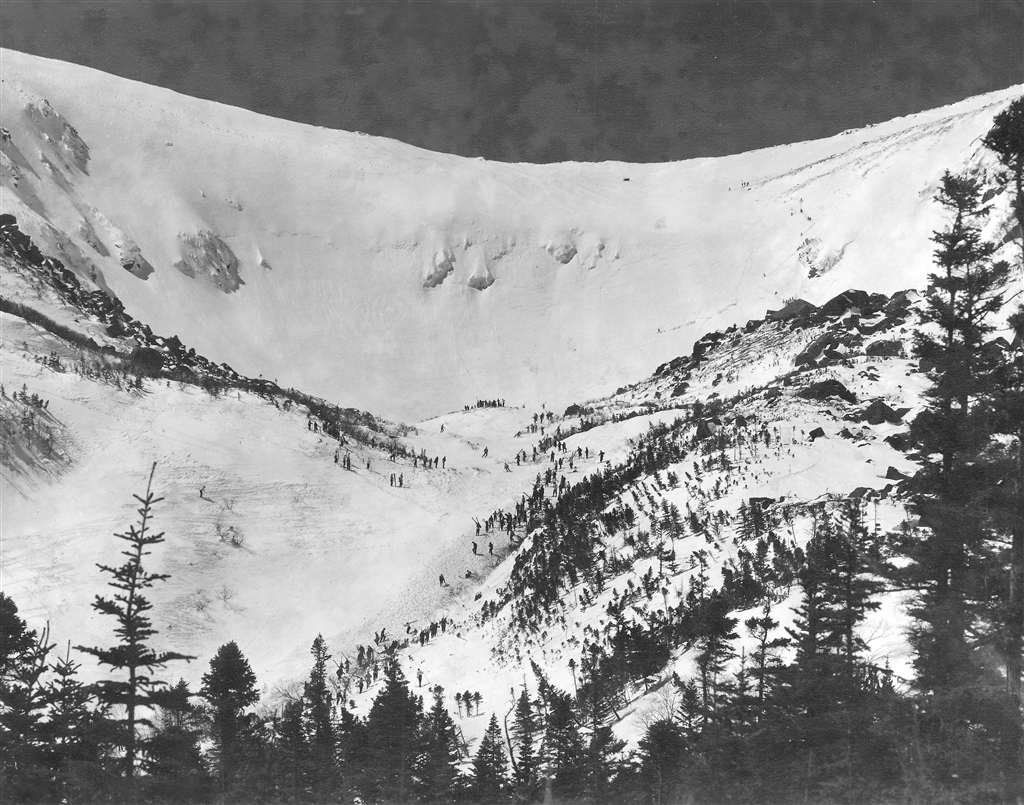 Tuckerman Headwall in 1939. Victor Beaudoin Photo.

The icy condition for the race is indicative of what we still have everywhere on our trails! Lower elevation trails with wide hillsides and smaller angles have less ice and in some places are down to frozen ground and even a bit of mud (mud season is approaching!). Higher elevations and steeper slopes along with deeper ravines are holding ice in amazing ways! The Tuckerman Ravine trail has 6-8 inches deep ice on some of the LOWER sections!!! Microspikes are required for most of these trails and on some of the steeper ones you really would prefer to have actual crampons! Above treeline we are still recommending crampons and ice ax and really caution you to be prepared for areas of high risk with long sliding falls!

The Head Wall of Tuckerman Ravine taken on the Day after the 2016 Race by the White Mountain Forest Service Snow Rangers. The Left Gully where the race was held is all the way to the far left of the snow area. Notice all those open rocks to the front!

Backcountry skiing never really materialized this year but Tuckerman Ravine is hanging on with an inch of new snow here and an inch of new snow there. Please lower your bar as far as expectations of good conditions...that said, folks are going in, finding lines and enjoying themselves in spring conditions! Be sure to always check out the avalanche conditions before you go!!!

Snow shoeing is LONG gone as is Cross Country Skiing. Wildcat Ski Area is hanging on for front country skiing but we are approaching it's last legs as well! I'm not sure how many other resorts have closed down for the season but many of them have!

Ice climbers are still climbing in Huntington Ravine. You can check NE Ice or NE Climbs for current conditions!

All in all, purchase Microspikes if you don't have them and come on up to hike!!! We are having some beautiful weather off and on and nice temperatures and with the traction, there are plenty of nice places you can get in to!!!

As always you can check AMC conditions for the latest report and/or call us here at Pinkham to see what we're seeing out our windows and for the best trail advice we can give you!

We are available by phone at (603)466-2721 every day from 6:30 AM to 10:00 PM or by email at amcpinkhaminfo@outdoors.org. To make reservations at AMC Lodges and Huts,please call (603)466-2727 available Monday through Saturday 9am-5pm.





Happy Adventuring!

Joyce

AMC Backcountry Information Specialist




Labels: alpine skiing, avalanche reports, Hermit Lake, Hiking, Huntington Ravine, ice climbing, Mount Washington, Pinkham Notch, skiing, snowshoeing, Tuckerman Ravine, Wildcat, xc skiing